About the Gurkha Justice Campaign
Campaign Organisers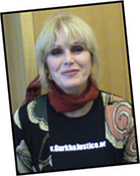 Joanna Lumley was born in Kashmir and spent her early life in Hong Kong and Malaysia.
Her father served for 30 years with the 6th Gurkha Rifles, and was a Chindit in Burma; his admiration and affection for these soldiers of Nepal was shared by all who served with them.
Joanna was a model in the sixties and started acting in 1968, on screens large and small, and on the stage. She has been a Bond girl, was nearly bitten by Dracula, saved the world with the New Avengers, turned time back in Sapphire and Steel and raised a glass or two in Absolutely Fabulous.
Her documentaries have taken her to Bhutan, Sarawak, Kenya, Indonesia, Norway and a desert island, where she survived as Girl Friday.
Married, with one son and two granddaughters, she lives in London.
Peter Carroll has worked on the Gurkha Justice campaign since 2003, when he was first approached to assist a retired Gurkha who was facing deportation from the UK after 22 years service in the Army.
Peter has worked to raise the profile of the campaign, which achieved major successes in 2004 when the Government agreed to change the law to allow any Gurkha retiring since 1997 the right to stay in the UK, and in 2009 when any Gurkha having served more than 4 years in the British army gained the right to settle in the UK.
Peter Carroll is a Councillor in Folkestone where the Royal Gurkha Rifles are based.
Martin Howe is senior partner at Howe & Co Solicitors. Howe & Co are a leading human rights law firm based in London, who have represented ex-Gurkhas in a number of court appearances, including the most recent High Court judgement which found the treatment of ex-Gurkhas to be "unlawful and unfair".
Sir Jack Hayward has donated £20,000 to the Gurkha Justice campaign.
Sir Jack, as an RAF Flight Lieutenant in the Second World War, flew gliders in behind enemy lines in Burma. The 2008 Sunday Times Rich List placed him as Britain's 501st richest with an estimated £160 million fortune, and he has helped many patriotic causes such as:
the recovery and restoration of SS Great Britain in Bristol;
the purchase of Lundy Island for the National Trust;
the Millennium Memorial Gates on Constitution Hill in London.
His most recent "saviour" act was to pledge £500,000 to the 8 year project to enable the last Vulcan bomber involved in the Falklands conflict to fly again when the project was threatened with financial collapse.
Campaign Contact Details
Postal address: Peter Carroll, Gurkha Justice Campaign, The Puffins, Peene, Folkestone CT18 8BG
Email: info@gurkhajustice.org.uk